Collections firms have a number of compliance considerations when it comes to communicating with consumers. Keeping up with compliance requirements not only reduces the risk of penalties and legal issues, it also fosters trust and creates a positive consumer experience.
HealPay payment software is packed with powerful features that help businesses send compliant communications to consumers.
Regulation F / The FDCPA
Regulation F, which implements the Fair Debt Collection Practices Act, outlines several regulations for debt collection businesses, which includes: third-party debt collectors and debt buyers. 
When it comes to communications, collection businesses have several rules to be compliant. HealPay's payment software makes it easy to provide the required disclosures, at the right time, and provides consumers the ability to control their communication preferences.
Notice of intent to communicate
On registration, consumers are presented with standard messaging that informs them of the intent to communicate via email. Merchants can optionally customize consent messaging.
Opting-out of communications
We provide consumers with two options for changing their opt-in status.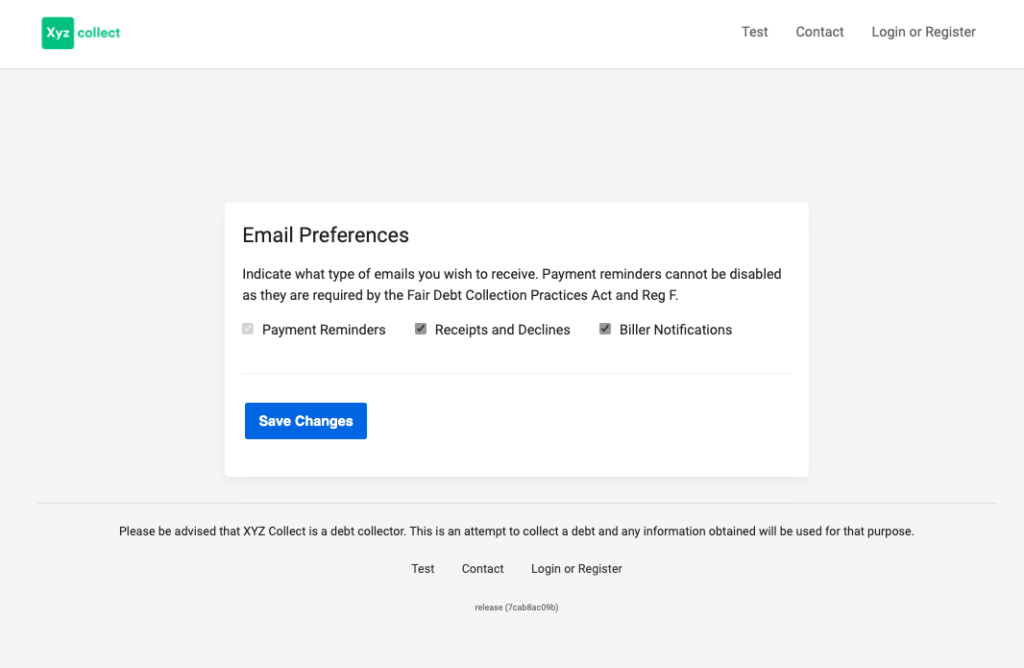 Unsubscribe via email link
Every debt-related email includes an opt-out link in the footer. The consumer can click the link to specify the emails they want to receive, or opt-out of all emails (unless the email is required by law). To make it easier, consumers can opt-out without logging in.
Change their communication preferences in the Portal
Consumers can login Consumers can specify which types of emails/texts they want to receive: reminders, receipts, communications from the firm.
Track and communicate deliverability failures
We automatically unsubscribe email addresses that bounce or blocked.
Collection disclosure
Merchants have the option to customize footer text for their online Portal. Here, we can include the mini-Miranda disclosure so consumers are informed of the intent to collect.
Payment Reminders
Advanced notice of scheduled payments is required by both Reg E and Reg F. Payment reminders for scheduled payments, including Recurring Payments, are sent daily at FDCPA-compliant times.
Regulation E
Regulation E requires businesses get consent before accepting electronic signatures, obtaining authorization for ACH and debit card payments. providing consumers with a copy of their authorization for both one-time and recurring payments, and providing instructions for stopping a payment.
Payment Disclosure & Authorization
Prior to processing ACH payments, obtain authorization from the consumer and provide a copy to the consumer.
For recurring payments, consumers have an opportunity to view and authorize the recurring payment schedule and receive a copy of the schedule with their payment confirmation.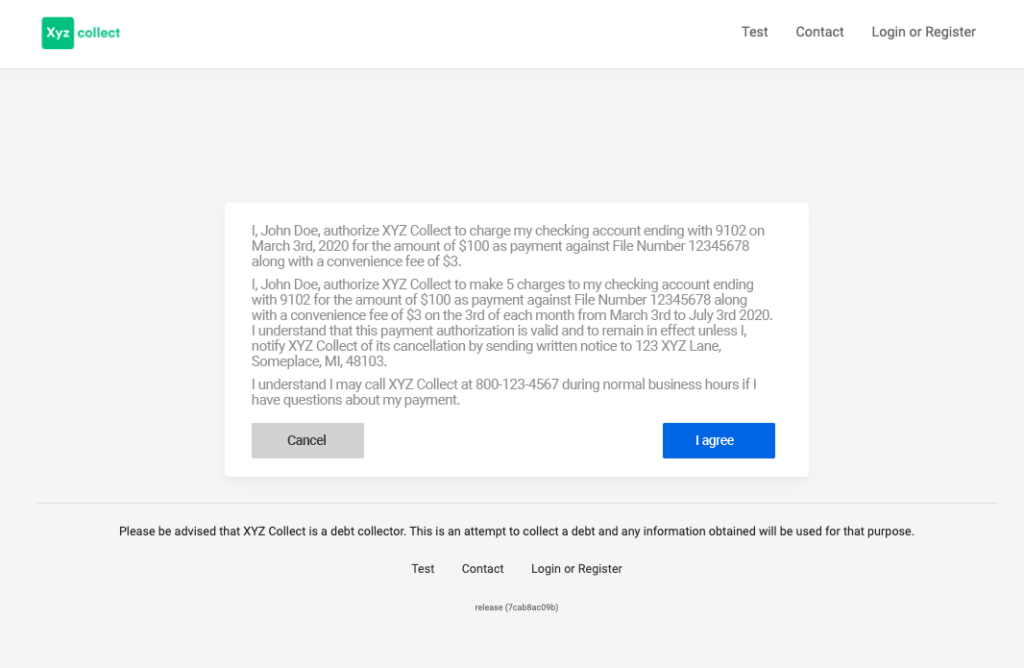 Compliance Benefits
Our compliance features simplify capture, tracking, and management of consumer consent for email communication ensure compliance with regulations, while also improving efficiency and effectiveness of consent-related processes.
We maintain records of consent to provide a comprehensive audit trail of communication interactions, simplifying compliance reporting.
Contact us for a no-obligation demo to discuss how we can help your business implement the necessary tools and processes to maintain compliance effectively.